Product Description
Customized Stainless Steel/Carbon Steel/steel Lost Wax Casting/precision casting steel connector/pipe fitting/base/gear/cap/washer/bracket/flange/coupling
 
Material:
 


| | |
| --- | --- |
| Stainless Steel: | JIS SCS1, SCS2, SCS13, SCS13L, SCS14, SCS14L/ DIN G-X7Cr13, G-X20Cr14, G-X6CrNi18 9, G-X6CrNiMo18 10, 1.3955, 1.4308, 1.4408, 1.4581 / ASTM/AISI CA-15, CA-40, CF-3/304L, CF-3M/316L, CF-8/304, CF-8M/316, etc |
| Carbon Steel: | JIS SC450, SCC5 / DIN GS-45, GS-60 / ASTM WCB, 450-240, 80-40, etc |
| Alloy Steel: | JIS SCW480, SCSiMn2, SCCrMn3 / DIN GS-20Mn5, GS-37MnSi5, GS-34CrMo4, etc |
| Heat Resistance Steel: | JIS SCH13, SCH21, SCH24/ DIN G-X15CrNiSi25 20 1.4840,G-X45CrNiSi35 25 1.4857 / ASTM HN, HK30, HK, HK40, HHM HP, HT |
| Bronze or Copper: | JIS BC6, ALBC6, etc |
| Other materials | Carbon Steel, Alloy Steel, Hight Manganese Steel, Tool steel, Heat-resistant Steel,  Al-Si Alloy, etc also available according to customer's request. |
Required documents for offer to be provided by customer:

Drawings with formats of IGS (3D), DWG or DXF (Auto CAD 2D), PDF, JPG
Standard of material (Preferable to provide Element Percentage of C, Si, Mn, P, S, etc and Physical/Machanical Properties of the material)
Technical requirements
Unit Weight of Rough Casting
Production technology: Lost-wax casting/investment casting
 

Main production equipment:

Vertical wax-injectors
Sand glueing tanks
Wax-evaporator
Intermediate frequency electrical induction furnaces
Spectrum analyzer
Shot blast machines
Heat treatment furnaces
Heat treatment water tank
Acid solution and water cleaning tank
Buffing / polishing machines / Electrical polishing
 

Unit weight: 1.2g~80,000g per piece
 
Other details:

Taper hole, deep hole, bent hole D>Ø2mm    L=1D
Minimum outside radius R0.3mm, minimum inside radius R0.5mm
Minimum thickness of 1.5mm, some parts with minimum thickness of 0.8mm
 

Tolerance of dimension for cast:
 


| | | |
| --- | --- | --- |
| Dimension Range (mm) | Common Tolerance | Special Tolerance |
| < 25 | +/- 0.25 mm | +/- 0.13 mm |
| 25 ~ 50 | +/- 0.40 mm | +/- 0.25 mm |
| 50 ~ 100 | +/- 0.80 mm | +/- 0.50 mm |
| > 100 | +/- 1 % | +/- 0.5 % |

 

Minimum order: No limit
Delivery: Within 30 working days after signing of contract and confirmation of samples by client
 
Technological process:

 

Workshop:

 

Some Products:

 

Testing equipments:

 

Shipments:

 

Company information:

 

Certifications: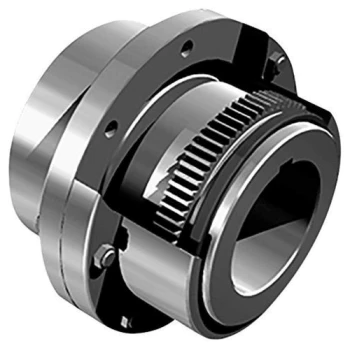 Can Gear Couplings Accommodate High Torque and High-Speed Applications?
Yes, gear couplings are well-suited for high torque and high-speed applications in various industries. They are designed to transmit large amounts of torque efficiently while providing torsional rigidity and compensating for misalignment between shafts. The robust construction and unique toothed gear design of gear couplings allow them to handle heavy-duty and demanding operating conditions.
The key factors that enable gear couplings to accommodate high torque and high-speed applications are:
Sturdy Construction: Gear couplings are typically made from high-quality materials such as steel or alloy, ensuring strength, durability, and the ability to withstand substantial torque loads without failure.
High Torque Capacity: The toothed gear design of gear couplings allows for a large surface area of contact between the teeth, distributing torque evenly and effectively. This design significantly enhances the coupling's torque-carrying capacity.
Torsional Rigidity: Gear couplings offer excellent torsional rigidity, meaning they can resist angular deflection and maintain accurate torque transmission even under heavy loads and at high speeds.
High-Speed Balancing: Gear couplings are precisely balanced during manufacturing to minimize vibration and prevent harmful effects on connected equipment, even when operating at high speeds.
Misalignment Compensation: Gear couplings can accommodate both angular and parallel misalignment between shafts, which is common in high-speed applications where thermal expansion and dynamic forces come into play.
Lubrication: Proper lubrication is crucial for reducing friction and wear in gear couplings, especially in high-speed applications where heat generation is higher. Lubrication also helps dissipate heat and ensures smooth operation.
Due to their ability to handle high torque and high speeds, gear couplings are commonly used in various industries, including steel, mining, power generation, paper mills, and more. However, it is essential to select the right size and type of gear coupling based on the specific application requirements and operating conditions to ensure optimal performance and reliability.



editor by CX 2023-08-30