Product Description
Elastic Excavator Coupling Rubber Accessories Engine Driven Coupling 4ED00001-up
 
Basic information:
Model:4ED00001-up
Used on:Excavator, Air Compressor, Marine Machine
Packing: Plastic Bag, Carton
Coupling Type: Coupling Inserts
Material:  Natural Rubber
Payment Methods: Bank Transfer, Western Union, Money Gram, Credit
Coupling Structure: Helical Coupling
Supply Ability: 3000PCS Per Week
After-sales Service: Online Support
Availability: Stock
 
Product show as below:
Procucts information:
| | | | |
| --- | --- | --- | --- |
| Pos. | Part No | Qty | Parts name |
| 1. | 3G-1280 | [1] | SPACER |
| 2. | 9J-5654 | [2] | SEAL |
| 3. | 9J-9841 | [1] | PLUG |
| 4. | 7H- 0571 | [8] | STUD |
|   | 8H-5724 | [8] | NUT |
| 5. | 6J-2391 | [12] | WASHER |
| 6. | 1H-6227 | [1] | SEAL |
| 7. | 8J-5790 | [1] | COVER |
| 8. | 0S-1620 | [4] | BOLT |
| 9. | 2D-4534 | [4] | BOLT |
| 10. | 7J-4772 | [1] | COUPLING |
|   | 3G-1858 | [1] | KIT (section front) |
|   | 8J-3780 | [1] | KIT (section rear) |
|   | 8J-5785 | [1] | KIT (seal) |
  About us:
specialized in:
couplings, rubber mounts, gera parts, hydraulic seals and seal kits for hydraulic hammers, rock breakers, hydraulic excavators,wheel loaders, and JCB badkhoe loaders.
And, Our company also supply:
Engine parts, hydraulic piston pump and hydraulic travel motor, Swing motor assembly and hydraulic component parts, electric parts, etc. Hydraulic hammer breaker parts with piston, cylinder, chisel, through bolt, side bolt, top bush, front head bushing,accumlator, valve, etc.
We always try our best for all our customers and make it better and better. Welcome!
FAQ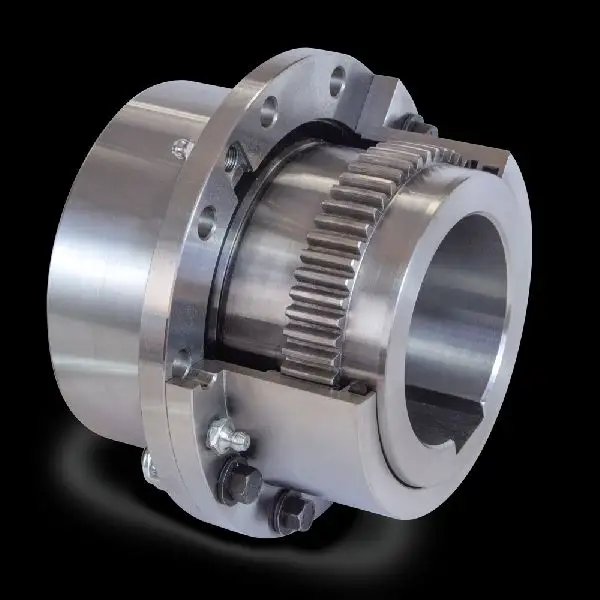 Compensation for Axial, Angular, and Parallel Misalignments with Flexible Gear Couplings
Flexible gear couplings are known for their ability to accommodate various types of misalignments, including axial, angular, and parallel misalignments. Here's how they compensate for each type:
Axial Misalignment: Axial misalignment occurs when the two shafts move closer or farther away from each other along the axis of rotation. Flexible gear couplings can absorb this type of misalignment through their flexible design, allowing the gear teeth to articulate and adjust to the axial movement without transmitting harmful forces to the connected equipment.
Angular Misalignment: Angular misalignment occurs when the two shafts are not collinear and form an angle with each other. Flexible gear couplings can accommodate angular misalignment by allowing the gear teeth to articulate and flex as the shafts are angularly displaced. This flexibility ensures that torque transmission remains smooth and minimizes stress on the coupling and connected equipment.
Parallel Misalignment: Parallel misalignment happens when the two shafts are offset horizontally while maintaining parallelism. Flexible gear couplings can handle this misalignment by utilizing their flexible elements to adjust to the lateral displacement of the shafts. The ability to compensate for parallel misalignment prevents excessive forces from being transmitted to the machinery, protecting it from damage.
Thanks to their design and material properties, flexible gear couplings provide a reliable solution for compensating for axial, angular, and parallel misalignments, making them suitable for a wide range of applications in various industries.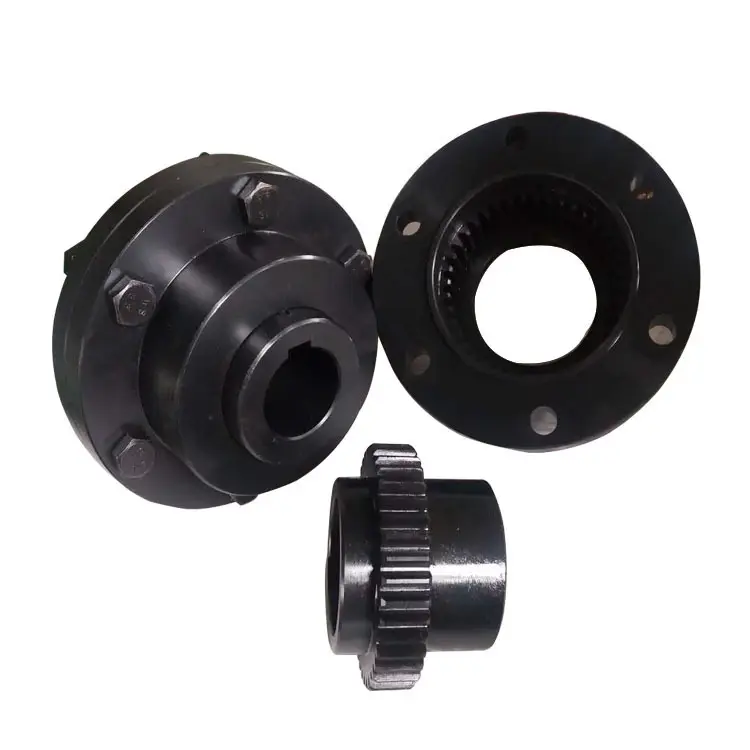 Comparison of Flexible Gear Couplings with Diaphragm Couplings and Beam Couplings
Flexible gear couplings, diaphragm couplings, and beam couplings are all types of flexible couplings used in mechanical power transmission systems. Each type has its unique characteristics and advantages:
Flexible Gear Couplings: These couplings consist of gear teeth that mesh together to transmit torque. They are known for their high torque capacity, ability to accommodate misalignment, and torsional stiffness. Flexible gear couplings are commonly used in heavy machinery, such as industrial conveyors and mining equipment, where high torque and misalignment compensation are required.
Diaphragm Couplings: Diaphragm couplings utilize a thin metal diaphragm to transmit torque between the shafts. They are ideal for applications that demand high precision and no backlash. Diaphragm couplings offer excellent torsional rigidity and can handle axial, angular, and parallel misalignments. They are often used in precision machinery, robotics, and medical equipment.
Beam Couplings: Beam couplings consist of one or more helical cuts along a cylindrical coupling body. They are known for their flexibility, zero backlash, and compact design. Beam couplings can handle misalignment and are suitable for applications with limited space, such as small motors and positioning systems.
The choice between flexible gear couplings, diaphragm couplings, and beam couplings depends on the specific requirements of the application:
Flexible gear couplings are preferred for high-torque and heavy-duty applications with substantial misalignments.
Diaphragm couplings excel in applications where precision and backlash-free operation are critical.
Beam couplings are suitable for compact systems and applications with limited misalignment.
Each type of coupling has its strengths and limitations, and selecting the most appropriate one depends on factors like torque requirements, misalignment, precision, space constraints, and environmental conditions. Consulting with coupling manufacturers or experts can help in making the right choice for a specific application.
"`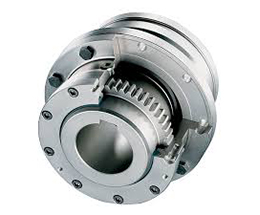 Flexible Gear Coupling: Function and Operation
A flexible gear coupling is a type of mechanical coupling used to connect two shafts in a power transmission system. It consists of two hubs with external gear teeth and an elastomeric flexible element between them. The flexible element can be made of materials such as polyurethane, rubber, or synthetic materials with high torsional flexibility and damping properties.
The function of a flexible gear coupling is to transmit torque between the connected shafts while accommodating misalignments and absorbing shocks and vibrations. When the shafts are misaligned due to angular, parallel, or axial displacements, the flexible element allows the hubs to move relative to each other, thus minimizing the transmission of misalignment forces to the connected machinery.
The operation of a flexible gear coupling involves the following steps:
The torque from the driving shaft is transmitted to the first hub with external gear teeth.
The external gear teeth on the first hub mesh with the internal gear teeth on the flexible element.
As the flexible element deforms under torque and misalignment, it allows the second hub to rotate while maintaining contact with the first hub.
The torque is then transmitted from the flexible element to the second hub, which drives the driven shaft.
The flexibility of the elastomeric element in a flexible gear coupling allows it to dampen vibrations and shocks that may occur during operation, thereby protecting the connected equipment from potential damage. Additionally, its ability to accommodate misalignment reduces stress on the shafts and bearings, extending the life of the power transmission system.



editor by CX 2023-11-06