Product Description
Factory Direct Sale Flexible Gear Coupling for Motor
Product show
| | |
| --- | --- |
| Product Name | Densen customized GIICL gear motor shaft coupling,machine shaft coupling,flexible gear coupling |
| DN mm | 16-1040mm |
| Rated Torque | 0.4~4500 kN·m |
| Allowalbe Speed | 4000~460RPM |
| Material | 45# Steel or 42CrMo |
| Application | Widely used in metallurgy, mining, engineering and other fields. |
Why Choose Us
1. One stop service:
We have 5 own factories and 50+ sub-contractors located in different areas of China to offer you one-stop manufacturing and purchasing services to help you save time and reduce procurement cost.
2. Your eyes in China:
Our commitment to quality permeates from quoting, scheduling, production, inspection to deliver into your warehouse, our QC team will remark the errors if has on QC documents for your checking before delivery as your 3rd party.
3. Your R&Dconsultant:
With professional engineers team and 29 years manufacture experience ,we would help you work out problems during new parts' development, optimize design and recommend the most cost-effective solution.
4. Your Emergency Solver:
With continued grown factories team and our QC teams located in different areas, if customers need to expedite the delivery, we would be able to adopt another factory to produce together immediately.
5. Quality Guaranty:
No matter how long time the products delivered, we are responsible for the quality. In case the products be rejected, we would replace them or return fund according to your demand without hesitation
FAQQ1. Are you a manufacturer or a trader?
Manufacture, we have 5 own foundries, 4 in ZheJiang Province, 1 in ZHangZhoug Province
Q2. Do you have MOQ request?
1 pcs per order is ok with us , unless material is seldom used.
Q3. If I only have a sample,without drawings, can you quote then manufacture for me?
Just send us the sample, we would have the sample simulated and measured by professional equipment then issue formal drawings for
you , at the same time, we could help you optimize the design according to your demand and related processes' feasibility.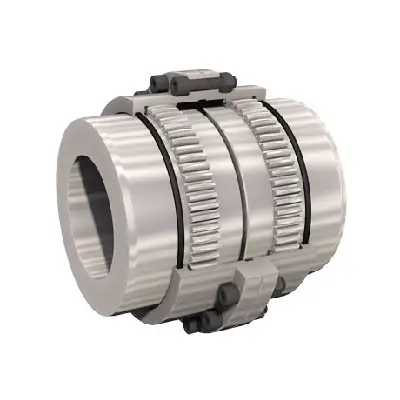 Safety Considerations When Using Flexible Gear Couplings in Critical Applications
Flexible gear couplings are widely used in critical applications where safety and reliability are of utmost importance. While these couplings are designed to accommodate misalignments and reduce vibrations, there are some safety considerations to keep in mind:
Proper Installation: Ensure that the flexible gear coupling is installed correctly according to the manufacturer's guidelines. Improper installation can lead to premature failure and safety hazards.
Regular Inspection: Perform regular inspections and maintenance to identify any signs of wear, damage, or misalignment. Addressing issues promptly can prevent unexpected failures.
Torque and Speed Ratings: Adhere to the specified torque and speed ratings of the coupling. Operating the coupling beyond its limits can lead to catastrophic failure.
Environmental Conditions: Consider the environmental conditions in which the coupling will operate. Factors such as temperature, humidity, and the presence of corrosive substances can impact the coupling's performance and safety.
Emergency Stop Mechanism: In critical applications, it is essential to have an emergency stop mechanism in place to quickly disengage the coupling during emergencies.
Overload Protection: Implement overload protection systems to prevent excessive torque transmission, which could cause damage to connected equipment.
Periodic Maintenance: Follow a regular maintenance schedule to ensure that the coupling remains in optimal condition and to identify any potential safety risks.
Training and Awareness: Ensure that personnel operating and maintaining the equipment are adequately trained and aware of the safety considerations related to the flexible gear coupling.
By adhering to these safety considerations and following best practices, the use of flexible gear couplings in critical applications can contribute to safe and reliable operation, reducing the risk of downtime and costly failures.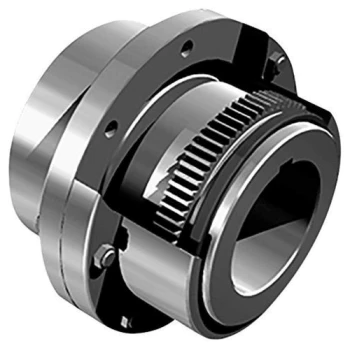 Design Considerations for Selecting a Flexible Gear Coupling
When selecting a flexible gear coupling for a specific application, several design considerations are crucial to ensure optimal performance and reliability:
Torque Capacity: Determine the maximum torque requirement of the application and choose a coupling with sufficient torque capacity to handle the transmitted loads without exceeding its limits.
Speed: Consider the operating speed of the machinery and select a coupling that can handle the rotational speed without generating excessive heat or vibrations.
Misalignment Tolerance: Assess the expected misalignment between the shafts in the system and choose a coupling that can accommodate both angular and parallel misalignments within acceptable limits.
Service Environment: Evaluate the working conditions, including temperature, humidity, and the presence of corrosive agents, and select a coupling made from materials suitable for the specific environment.
Space Limitations: Take into account the available space for the coupling installation and choose a compact design that fits within the available constraints.
Alignment Maintenance: Consider the ease of alignment and maintenance requirements of the selected coupling. Some couplings may require more frequent maintenance than others.
Backlash: Evaluate the application's tolerance for backlash (angular play) in the coupling and select a design that meets the required precision.
Torsional Stiffness: Determine the need for torsional stiffness in the system to avoid torsional vibrations and ensure accurate torque transmission.
Resonance Avoidance: Identify potential resonance frequencies in the system and choose a coupling that helps avoid resonance, preventing amplified vibrations.
Cost: Consider the budget constraints and compare the cost-effectiveness of different coupling options while ensuring the selected coupling meets all the necessary requirements.
By carefully considering these design factors, engineers and designers can choose the most suitable flexible gear coupling for their specific application, ensuring smooth operation, reduced maintenance, and extended equipment lifespan.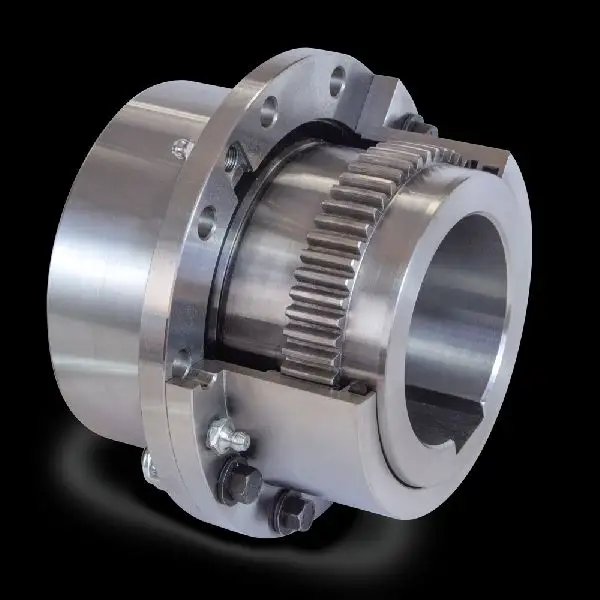 Handling High Torque Loads and Maintaining Constant Velocity Transmission in Flexible Gear Couplings
Flexible gear couplings are designed to handle high torque loads and maintain constant velocity transmission between the connected shafts. The unique construction of flexible gear couplings allows them to achieve these characteristics:
1. High Torque Capacity: The design of flexible gear couplings includes robust gear teeth that engage with each other. These gear teeth transmit torque from one shaft to the other efficiently. The use of high-quality materials and precise manufacturing ensures that the coupling can handle substantial torque loads without failure or deformation.
2. Constant Velocity Transmission: The meshing of the gear teeth in flexible gear couplings provides a positive drive, ensuring constant velocity transmission between the input and output shafts. This means that the rotational speed of the output shaft remains consistent with that of the input shaft, even under varying torque conditions.
These features make flexible gear couplings suitable for various industrial applications, including heavy machinery, high-power drives, and equipment requiring precise speed control.



editor by CX 2023-08-31